Advanced Summer Course
Gain more mastery and confidence in running a Behavioural Design project. Advance your behavioural interviewing and analysis skills. Learn how to inject Behavioural Design into your organisation. Work on your own case and gain access new tools and templates.
Learn how to set-up and run Behavioural Design projects with confidence.
Learn how to set-up and run a
Behavioural Design project from A to Z.
Advance your behavioural interviewing
and insight analysis skills.
Lead teams or colleagues to inject
Behavioural Design into projects.
The Full Advanced Course experience.
Now in a special Amsterdam summer program.
The COVID-19 crisis has forced us all into a new context almost overnight, and it requires new approaches from all of us. Organisations or people that know how to influence choice and shape behaviour are far more likely to get clients, employees or citizens into the desired action again. That is why SUE has decided to make possible what we never did before: you can now access the FULL Advanced Course training in a one-week Summer Course. Submerge yourself into Behavioural Design again and give yourself a know-how and skills update. The end goal? You will be able to confidently run every step of a Behavioural Design project on your own. As a bonus, we will work together on a case of your own, so by the end of the week, you will return home with a Behavioural Design solution to one of your challenges.
new tools & templates the best trainers certification personal attention 100% practical
When join this training?
Whether you want to run a project using the full Behavioural Design Method™ or want to gain mastery in parts of the method, such as interviewing or prototyping, this is the right course for you. This course is especially designed for professionals who want to inject Behavioural Design into their organisation or projects. You will master the skills to set-up, lead and implement every step of the Behavioural Design Method with confidence.
What do you get?
Five full days of masterclasses
Real-time feedback on your case
30-minute personal coaching session
New digital tools & templates
Learn from like-minded professionals
Breakfasts, lunches & welcome dinner
BONUS: our Amsterdam tour
What is the investment?
As we're going for the full-week experience we can now offer you the full Advanced Course not for € 3790 but only for € 3490,- excluding VAT. This includes FREE welcome dinner, Amsterdam tour and night out.
Apply now
Enrol in the Summer Course here
What will you master?
Learn how to design different behaviours

Deepen your skills to apply the SUE | Influence Framework™ and BJ Fogg Behavior Model. Learn how to use them to design customer, employee, citizen and your behaviour.
Become expert in gaining behavioural insights
Advance your interviewing skills. Know how to prepare an interview, craft the best interview script and questions, deal with difficult respondents and practice your interviewing skills in real-life.
Know how to lead a Behavioural Design project

We will show you the ins and outs of setting up and running a Behavioural Design project successfully. Whether you want to do a project from A to Z or inject Behavioural Design in a project, you will know how to do this.
Build your first Behavioural Design success case

During the course you will work on solving a challenge of your own applying behavioural science. Get real-time feedback and coaching cracking your case.
Learn how to experiment to learn like a pro

We will turn your prototyping skills up a notch. You will learn the difference between prototyping for ideation and prototyping in the real world. And make a prototype of your own.
Lead customer-centric transformation

We will show you how you can make Behavioural Design an integral part of your team or organisation. We'll explain the role of a Chief Behavioural Officer and clear the way for you to lead customer-centric transformation.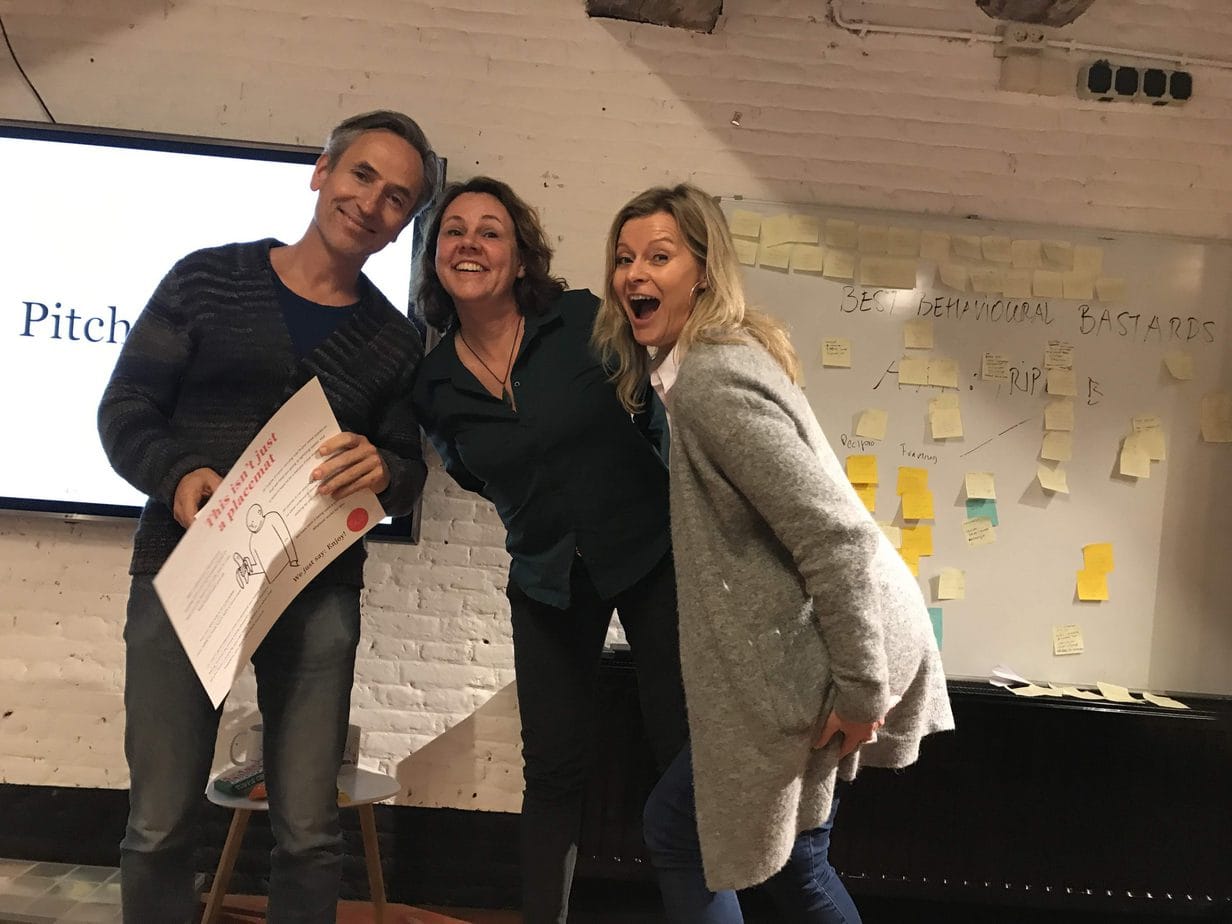 TIMES AND DATES
The Summer Course runs from Monday 17th August – Friday 21st August 2020. Five full days from 9.00 – 17.00/17.30 hrs.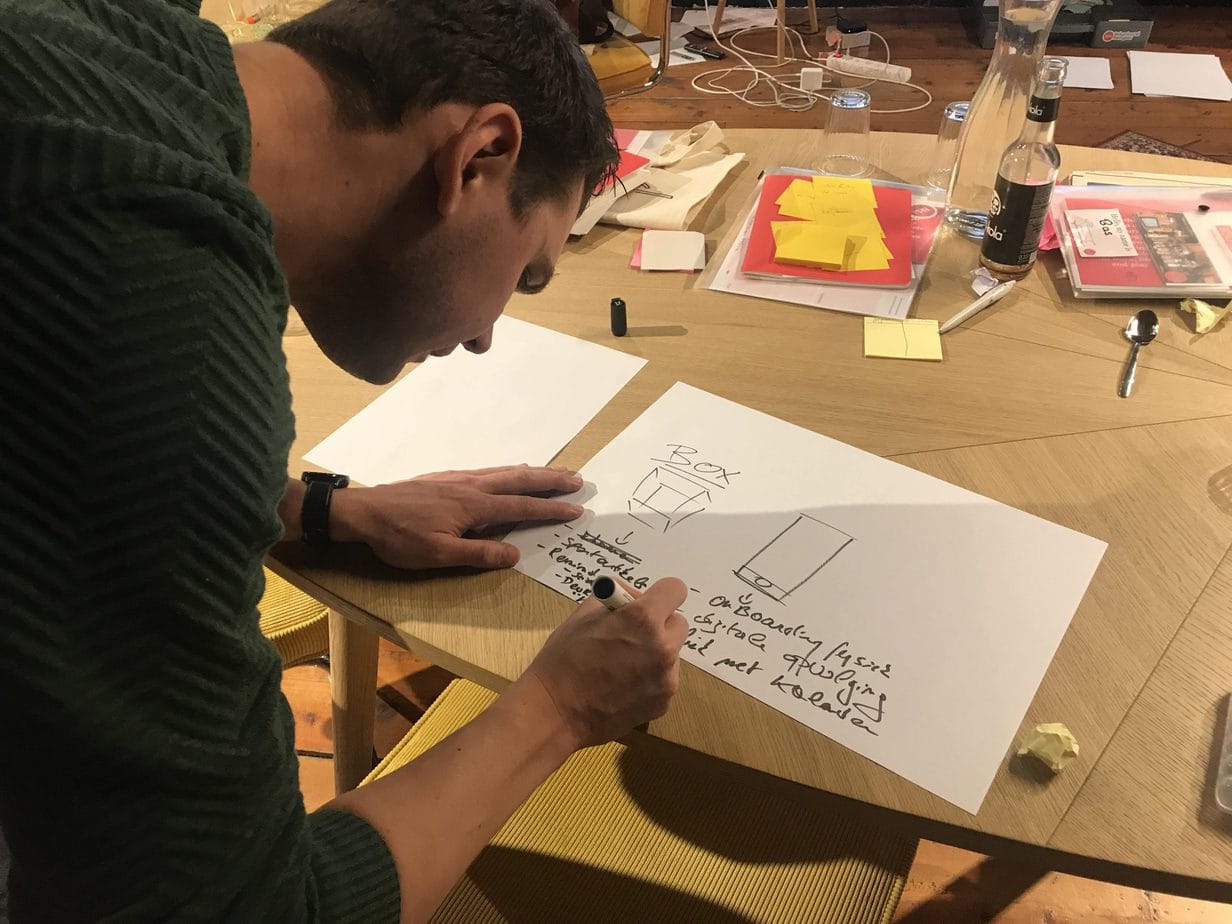 WHO CAN JOIN
Behavioural Design Fundamentals Course (former Foundation Course) graduates.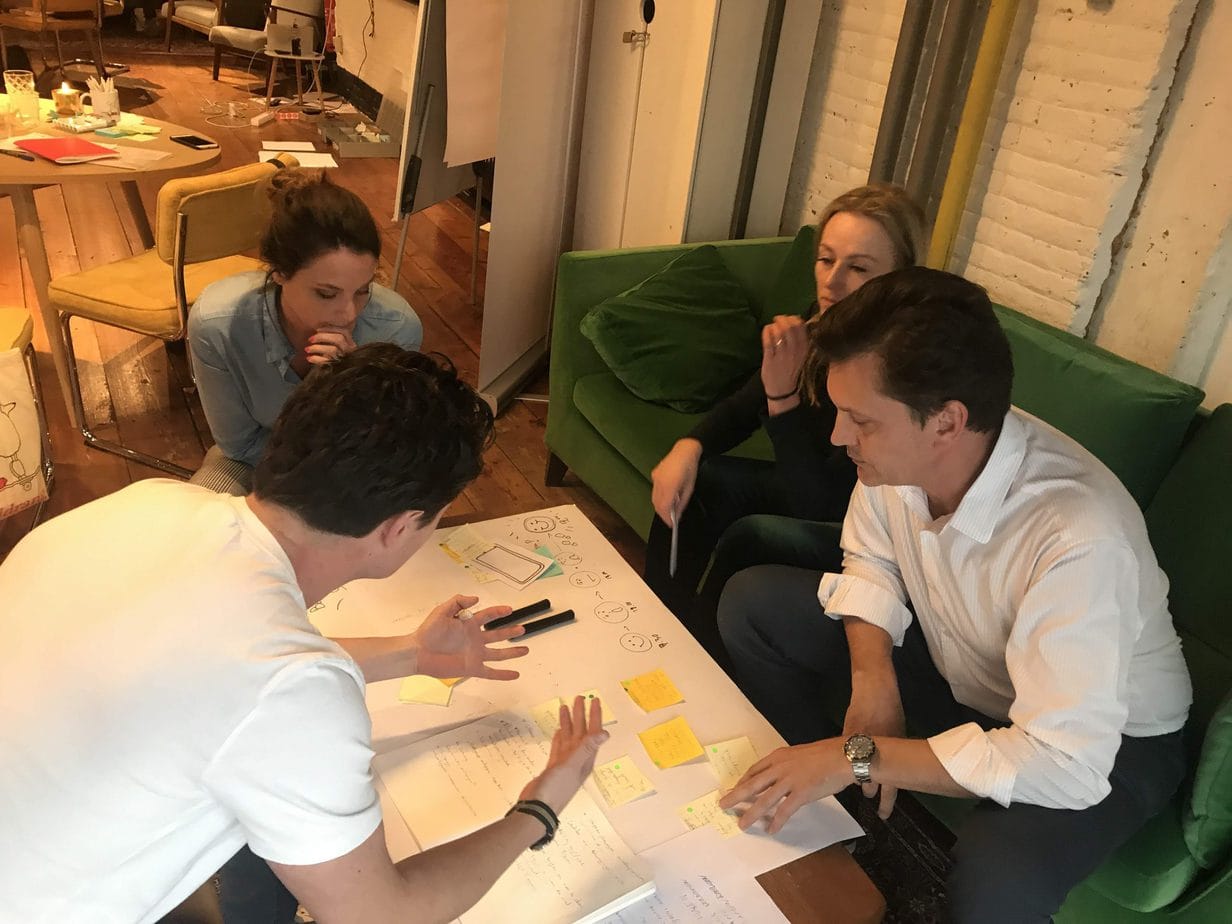 INVESTMENT
The Course investment is temporarily € 3.490 instead of € 3.790. This includes the five days of masterclasses, course materials, tools & templates, 5x breakfast & lunch, 1x dinner, 1x tour & drinks.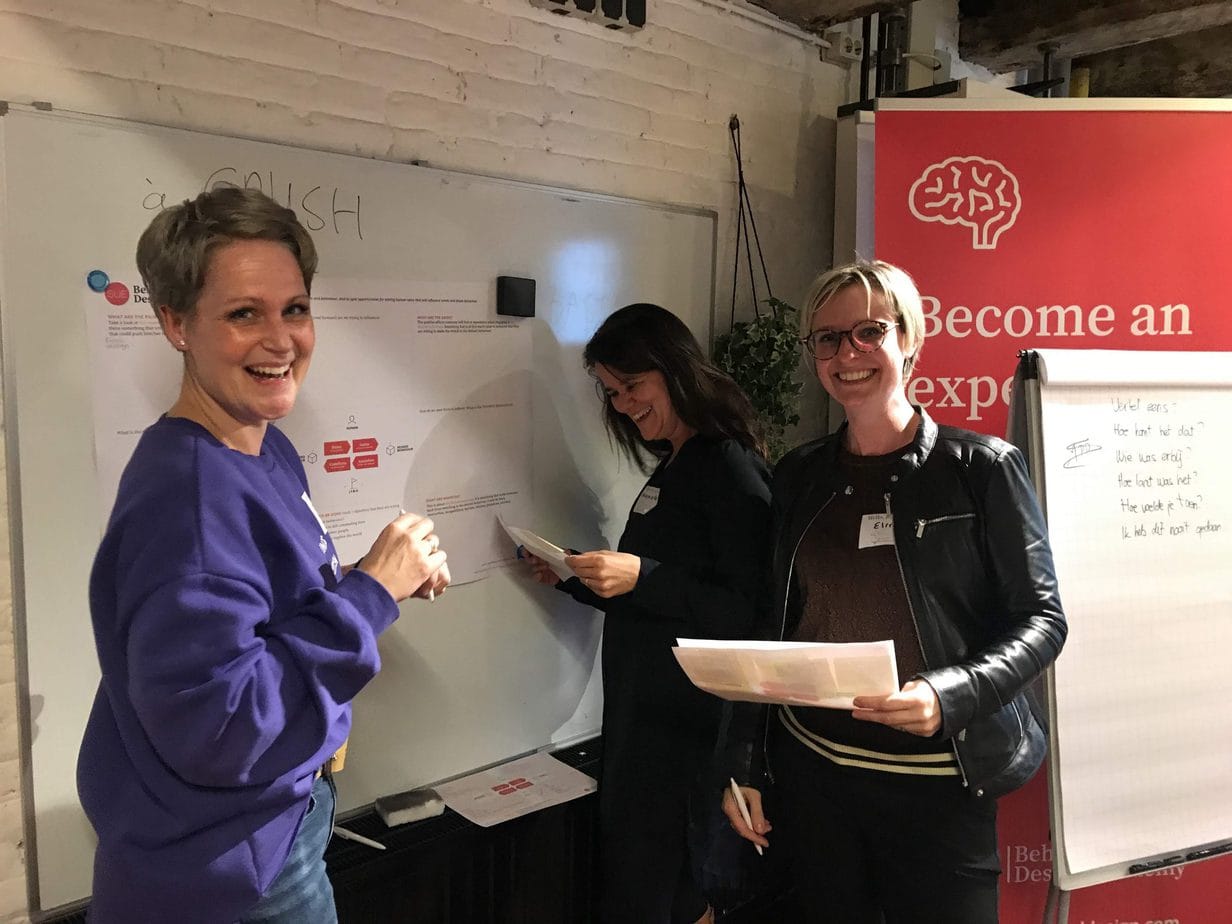 GROUP SIZE
The number of seats is limited to 12 to ensure a maximum possibility of getting personal coaching and feedback. It is an international group, the course language is English.
TRAINING DAY 1
9.00 – 17.30 hrs
17.30 Welcome dinner

I. ADVANCING IN THE BEHAVIOURAL DESIGN METHOD
We will really take a deep-dive into the SUE | Influence Framework and the BJ Fogg Model. We will be applying them to real world behavioural challenges: we will take a look at how to design team behaviour, customer behaviour, citizen behaviour, and your own behaviour.
II. WORKSHOP: DESIGN YOUR OWN GOOD LIFE HABITS
Bonus: "Fuck it, Let's do it". A workshop to design your own good life habits" using Behavioural Design. Next level personal coaching, see how you can use your know-how of behavioural psychology to design your own life and learn the secret of happiness.
III. WELCOME DINNER

You'll be part of a group of like-minded professionals that all have successfully finished the Behavioural Design Fundamentals Courses and want to take their Behavioural Design skills to the next level. The Summer Course is extra special because you will get to know peers that you can learn from with whom and in the future can keep in touch. No better time to get to know each other in an informal setting. That's why we'll finish the first day with a dinner in Hemelse Modder, one of the best restaurants in the neighborhood. Our treat.
TRAINING DAY 2
9.00 – 15.00 hrs masterclasses & workshops
15.00 hrs Amsterdam tour & drinks

IV. INTERVIEWING FOR BEHAVIOURAL CHANGE
We will really advance your interviewing skills. In the Fundamentals you got a first taste of how to interview for behavioural change, but now we teach you the truly practical skills. You will master how to:
Do a kickoff
Select respondents
Build an interview script
Ask great questions
Deal with difficult interviewees
And we make sure we make an interview script for your challenge, so you come well-prepared for your interviews. You'll get coaching and feedback on the spot.
V. THE AMSTERDAM LIKE A LOCAL TOUR & DRINKS

In the late afternoon, it's time to get some different input from us: we will show you around in our Amsterdam. We will take you on an Amsterdam walking tour. Showing you the places we love most in our neighbourhood. We end the tour with drinks in a typical Dutch bar.
TRAINING DAY 3
9.00 – 17.00 hrs masterclasses & workshops

VI. DOING THE INTERVIEWS
In the morning you will take your advanced interview skills into practice. You'll be interviewing three respondents for your challenge. This is done individually. You can choose to do those online or go out and meet people.
VII. BUILDING YOUR INFLUENCE FRAMEWORK AND OPPORTUNITIES

In the afternoon we will teach you how to make the most out of the insights you gathered in your interviews. Making sure you get the right input that helps you solve your challenge. We will teach you how to:
Map your insights on the Influence Framework the right way
Spot opportunities for solving your challenge
Transform your opportunities into Behavioural Statements
Define a sprint goal based on insights
You'll end up with a filled-in Influence Framework™ specifically for your challenge and we'll have a clearly defined starting point for your ideation.
TRAINING DAY 4
9.00 – 17.00 hrs masterclasses & workshops

VIII. ADVANCING YOUR IDEATION SKILLS

We will introduce your to some new ideation techniques that help you solve (complex) behavioural challenges.
IX. PROTOTYPING LIKE A PROFESSIONAL
In the Fundamentals Course we have introduced you to prototyping, now we will go a level deeper. We will show you the difference between Prototyping for Ideation and Prototyping for the Real World and share our prototype tips & tricks.
X. WORKING ON YOUR BEHAVIOURAL DESIGN SOLUTION AND PROTOTYPE

You will be working on ideas for your challenge and translate them into prototypes. The end goal of this course is that you'll go home with finished prototypes so you are ready to test them at real users.
TRAINING DAY 5
9.00 – 17.00 hrs masterclasses & workshops
17.00 hrs graduation drinks

XI. THE PERFECT PITCH

Having a brilliant solution is one thing but convincing someone to embrace it, is another game. We will show you how you can use Behavioural Design to gain more control over successful outcomes.
XII. SETTING UP A BEHAVIOURAL INSIGHTS TEAM/CHIEF BEHAVIOURAL OFFICER
Maybe you want to integrate Behavioural Design more firmly into your organisation. We will tell you about best practices of setting up a behavioural insights teams or how the role of a chief behavioural officer can benefit your organisation.
XIII. CREATING YOUR ACTION PLAN
We will round up the course by creating an action plan to make sure that you will progress with your challenge. In general, we'll teach you how to turn insights into concrete actions.
Enrol in the Summer Course here
Frequently asked questions
Enrol in the Summer Course here
We are in the business of mastery
We are not simply in the business of knowledge transfer, are goal is mastery. We want every participant to be able to apply Behavioural Design in daily practice. That's why we won't let you go after the two days of training and we offer follow-up training.
By participating in the Advanced Course, you will take an essential step in further mastering the Behavioural Design Methode™, or in other words, the ability to design choice and behaviour by using behavioural psychology. The crucial insights from behavioural economics will be part of the training, but foremost they will be made very practical: how can you use theory in daily work life? It, therefore, builds on any knowledge you might already have about behavioural psychology. However, previous know-how in this field is not needed.