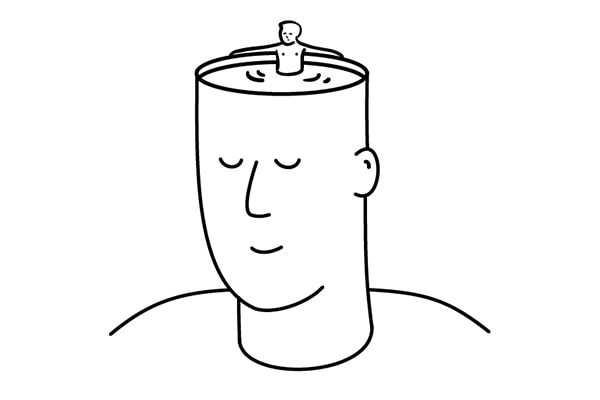 Excerpt: In our post 'BJ Fogg Model explained' we have given a concise explanation of the BJ Fogg Behavior Model, which is a persuasion knowledge model. This post is for those who want to dive a bit deeper into the motivation axes of the model. There are a lot of theories of motivation, and there is more than one motivation model. What is so interesting about BJ Fogg's work is that he has developed a framework that takes human psychology and behavioural design as a starting point.
Motivation explained
In his Behavior Model motivation is one of the three elements – together with ability and trigger – that is needed to change behaviour. Should we love in a perfect world, your user or target group already is motivated to show the behaviour you'd like him or her to engage in. If that's the case, your job is to make sure the desired behaviour gets easier to do (working on ability). And making sure someone is triggered to act. But if someone isn't highly motivated, he probably won't engage in the wanted behaviour.
If you want to understand behaviour from a human-centered point of view, you must understand, as BJ Fogg puts it, that "Motivation has one role in life, to help us so hard things. If it isn't hard, you don't need motivation."
BJ Fogg's advice is to always start at making the desired behaviour easier. As our brains love simplicity and it takes away the burden of being motivated.
But you can also boost motivation and sometimes you simply have to. We use Cialdini's persuasion principles to do so. But what is BJ Fogg talking about when he is talking about motivation? In short, he has identified three types of core motivators all with two sides to them. We'll explain them here and finish off with insights from Dr. Fogg on when it is best to motivate someone.
Core motivator 1: Sensation
The first core motivator is called sensation and can be divided into two: pleasure and pain. What differentiates this motivator from those that follow is that the result of this motivator is immediate, or nearly so. There's little thinking or anticipating. People are responding to what's happening at the moment. Pleasure/pain is a primitive response, and it functions adaptively in hunger, sex, and other activities related to self-preservation and propagation.
Core motivator 2: Anticipation
The second core motivator is called anticipation and also has two sides to it: hope and fear. This dimension is characterized by anticipation of an outcome. Hope is the anticipation of something good happening. Fear is the anticipation of something bad, often the anticipation of loss. This dimension is at times more powerful than pleasure/pain, as is evidenced in everyday behaviour. For example, in some situations, people will accept pain (a flu shot) to overcome fear (anticipation of getting the flu).
Core motivator 3: Belonging
This dimension controls much of our social behaviour, from the clothes we wear to the language we use. It's clear that people are motivated to do things that win them social acceptance. Perhaps even more dramatically, people are motivated to avoid being socially rejected.
How to motivate someone
Whether you need to work on consumer motivation behaviour or organization motivation behaviour, motivation works the same. The basis you have to start from is to be very specific about the behaviour you want people to do. Don't say 'Exercise more,' but say 'Do 20 minutes of exercise two times a week". Don't say "Eat healthy food," but say something like "Eat one piece of fruit every day to finish off your lunch."
This is where motivation comes in, select a specific behaviour that your customers already want to do or pick a behaviour that will help them achieve an outcome that they really want. For example. People may not want to exercise (behaviour), but the result they are looking for with the exercising is for example 'fitting in their wedding dress' (outcome). Finding the underlying motivation is also called
Job-to-be-Done
thinking as developed by
Clayton Christensen
at Harvard Business School.
Coming back to what BJ Fogg said that motivation has only one role, to make hard things easier, it's not that motivation doesn't matter. But you don't simply layer motivation over something you want people to do. As BJ Fogg puts it, you have to be motivation matching. It needs to match what people already want to do. But sometimes you have cases in which you do have to insert motivation into the situation to get people to do something.
When to motivate someone
According to Dr. Fogg, the moment in which you ask someone to do the specific behaviour (trigger moment) is very important. We all have what he calls 'motivation waves.' We have all experienced this. Sometimes we get excited about something. It could be something positive, like you watching the Olympics on TV and you think I am going to go out do some exercising myself. Or you watch a family movie, and you think I am going to spend more time with my kid. Or it could be something negative such as a report of a traffic accident on the 8 o'clock news, and you think I have got to get an emergency kit in my car. During those situations, you go through a motivation wave.
Important to know is that as your motivation goes up, you are able to do harder things. When the wave comes back down as it does, you are less able to do hard things.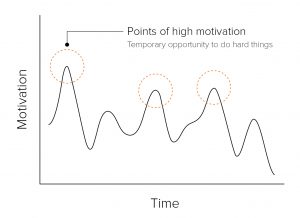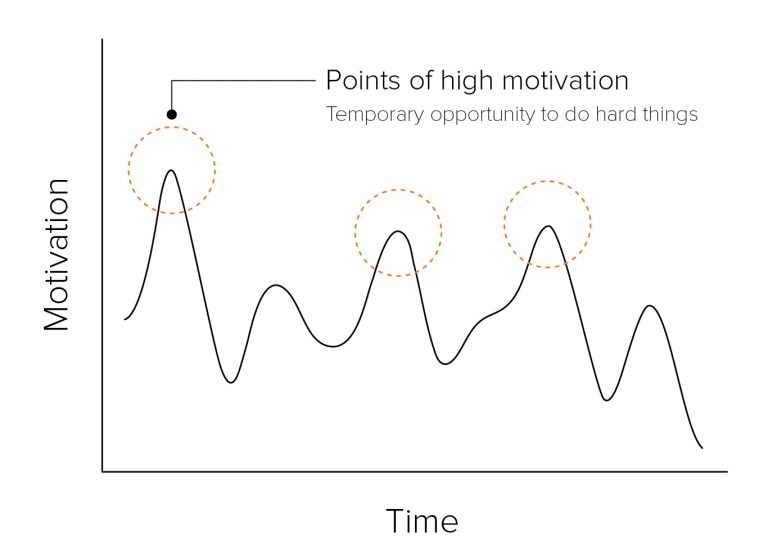 In short, there are temporary opportunities to make people (or yourself) do hard things. From a business perspective, this means when your customer, your member, your patient, your user is way up surfing the motivation wave that's the perfect time to trigger them to do hard things.
And you need to do it quickly before the wave goes down, as it will. People are not constantly motivated to exercise or to spend more time with their kid. It will go away, just like a wave comes down. To link it to Kahneman's work for those who are familiar with this. Motivation has a more cognitive, rational thinking side to it, as ability is all system 1. Smart ability interventions make people do things without thinking.
In this video BJ Fogg briefly explains the concept himself:
How motivation meets ability
If you don't have to do hard things you don't need much motivation. But let's face it: some things are really hard to get started with. Let's say exercising regularly or losing weight. If you want someone to show hard behaviour, their motivation has to be high. When motivation is low, they are simply not going to do it. If you want to persuade someone to do hard behaviour you have to wait for a motivation wave. That's a hot trigger moment. So be ready for it.
But the wave is one thing. The most effective persuasion strategy is to be there at the peak of a motivation wave and get someone started down the path of achieving hard behaviour, step-by-step. Maybe you've heard of the concept of baby steps. It's exactly this. As motivation doesn't always stay up, what you need to do if you want to change behaviour is to get people to do hard things on the top of the motivation wave that will make future good behaviours easier to do.
Think about the exercising or living healthy example. When you are riding the motivation wave for example after seeing sports on TV, it is the best moment for you to go out to buy yourself a yoga mat, get a water bottle and buy fruit. All ability interventions. When your wave drops again, it doesn't really matter. Your motivation then doesn't have to be high to make a healthy choice, you have made the desired behaviour easier. You have your water bottle on your desk, fruit in front of you and your yoga mat at home. It's simple to act more healthy in the future. It feels like a baby step rather than a big leap. And it helps create new routines and habits.
Competing behaviours and motivation
Sometimes you don't lose motivation, but there is a competing behaviour. We all have several motivation waves at the time that require different behaviour. For example, we can be very motivated to go exercise, but when you get a call from school that your kid has the flu, you'll be more highly motivated to get your son or daughter then going to the gym (I hope). We assess which behaviour is more important at the time, all the time. In short, we are all choosing between competing behaviours.
That makes it all the more important to make those baby steps, as you can still take the baby steps, the tiny small things even when something else is grabbing your attention.
Would you like to learn more?
If you want to master the science of influence yourself, you could consider enrolling in our two-day course Behavioural Design at our SUE | Behavioural Design Academy. You can download the Academy brochure. Or maybe you currently have a challenge in which you want to influence choice or change behaviour. Please, take a look at our Behavioural Design Sprint. It might be the answer you're looking for.
Or could be you just would like to get to know us a little better. We happily introduce ourselves here.