Behavioural Design and Covid-19

Training and sprints will continue
It would be the worst Behavioural Design if we as SUE wouldn't come up with interventions to help contain the Covid-19 outbreak. Starting with how we manage things at SUE for all our clients and participants. And not to mention for our team. At our offices we have already taken all the measures that are advised:
We wash our hands regularly
Most of us are working virtually right now
We have special hygiene soaps in the offices
We have stopped shaking and hugging (and we are big on hugs)
But we are taking things a step further.
Behavioural Design as part of a solution
Behavioural Design might be needed more than ever right now. In these times of uncertainty, we believe our clients and participants need all the help they can get not to come to a standstill. How can you make sure your clients are still coming to you? How can you make sure you and your team can still be a high-performance team when forced to work virtually? How can you install team habits? How can you better understand the psychology from clients, citizens and employees so you can help them make better decisions? How can we design behaviour to help slow the spreading of the virus down?
You might have been forced to stop travelling, but that doesn't mean you want progress to stop or even worse to come to a standstill.
More know-how on Behavioural Design can help prevent a standstill or even help you acquire know-how to outsmart the competition (and virus). That's why we will continue sprinting and training. SUE is going virtual as long as the outbreak isn't contained. And SUE will start making free content and training to help organisations and people to install the new behaviours needed in these times. Just keep an eye on our newsletter that you can join on our homepage and this blog.
The reason for going virtual
After reading up on trustworthy sources on the Covid-19 outbreak, one of the most important conclusions is that we can help slow-down and contain the outbreak if we make sure a little people as possible come into contact with each other. We found this interesting graph that shows it in one clear picture: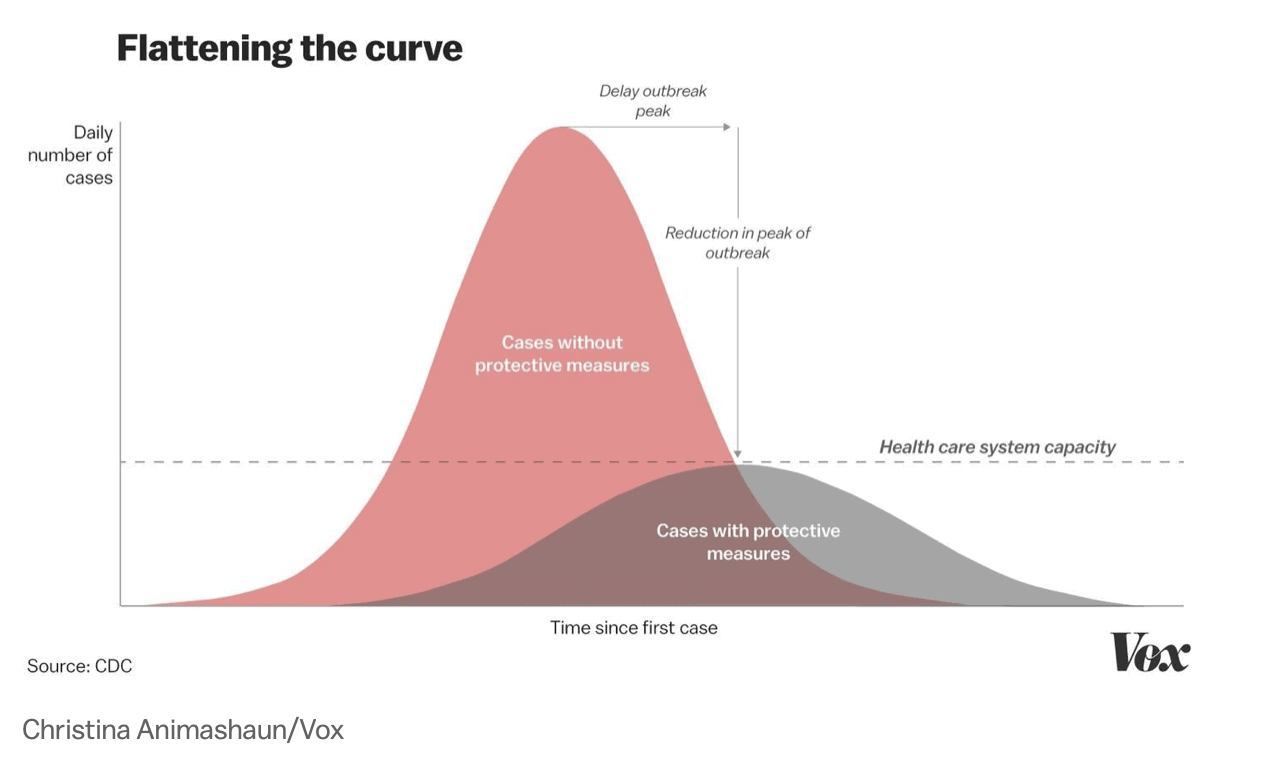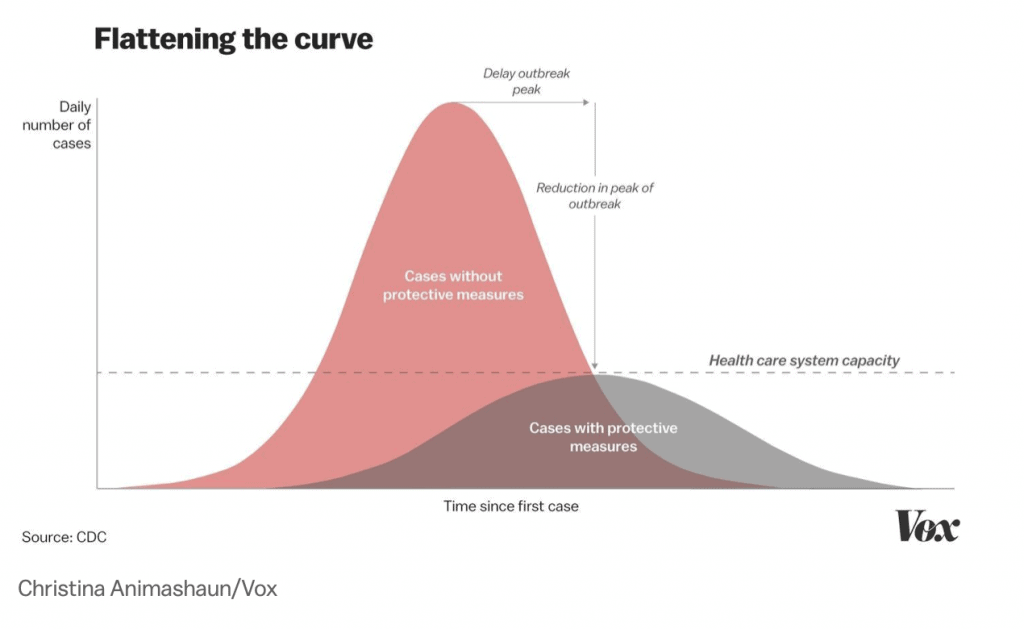 That's why we have decided to go fully digital at SUE. We feel it is our responsibility to our clients, participants and employees to protect them as much as we possibly can. By not bringing them together in one room. We have set-up a virtual training and sprint room, and we have all technology in place to visually collaborate from a distance.
An interesting pilot
Maybe we can make the saying 'never waste a good crisis' true for every one of us. We will develop, prototype and improve new working habits.
Let's turn this forced virtual working into a blessing. If we can make this work, we can also keep it up when this Corona crisis is over.
It could open possibilities for employees to have more flexibility as working from home reduces their travel time. It can open up new ways of wokring that helps parents spend more time with their kids. It can make teams surge as this time can help them experiment with high-performance team habits. It can maybe help this planet as breaking the habits to jump on planes, to commute to work by car or shop 'till we drop is replaced by more positive habits. It will be an interesting journey, and yes, we will experience setbacks. But this crisis will force us to learn super quickly to build better behaviours. Necessity is the mother of all progress. In the meantime,
We will take you along on our journey to help create better habits.
Both in staying on top of our game in work performance, but also in finding out how to make sure you still feel genuinely connected when not being in the same space. We will share this in our newsletter and on this blog. Interesting times and we hope you will join us on this ride. That is both necessary, but also extremely intriguing.
Our clients and participants
If you have booked a sprint with us, we will contact you personally to give you all instructions how to participate in the virtual sprint to help you come up with solutions to make Behavioural Design work for you. Do you want to book a new virtual sprint, as you also might feel Behavioural Design is the missing layer to dealing with this crisis? Please contact us; we can help you out with everything.
If you have enrolled in our Academy, we have sent you an email with the latest update on how you can access the virtual training will take place. Please also check your spam folder to find it. Do you want to join the Academy? Just enrol on the Academy page, and you'll get all the information on how to join the virtual training room. The dates mentioned on the website are still the dates of the training.
Contact
Please don't hesitate to contact us if you have any questions: hello@suebehaviouraldesign.com
By phone: +31 20 2234626
Watch the complete overview of our blogs on behavioural design.