Or 'Using the power of repetition not just to build memory, but also trust.'
Behavioural science is fascinating. Understanding some of the fundamentals of human decision-making will give you far more control over successful outcomes of personal and professional goals than you might have ever expected. But how do you turn this science into practice? This is a blog series highlighting the best insights from behavioural science translated into how to make them work for you daily. Behavioural economics applied. To help you make better decisions that will help you improve your wellbeing, work and society.
Behavioural psychology: The power of mere exposure

Don't you wish you could remember things better? Every interesting article you've ever read, everything you've learned in school, wouldn't it be fantastic if you could recite them by heart? Well, you know what you have got to do then right? Eat, sleep, and repeat. That's the traditional approach to recognising and remembering. And it does work— sort of. If you repeatedly see or read things, you tend to remember them. Or put differently, the number of times you are exposed to something helps something to be captured in the memory structures of our brain. 
But the truth is our memories are not infallible. As Kahneman and Tversky have proven, our brain operates on two decision systems: system 1 and system 2. System 2 is a slave to our system 1, which is our automatic, unconscious operating system that uses cues and shortcuts (called heuristics) to form judgments and opinions. Judgments and opinions that our system 2 then turns into beliefs. As Kahneman puts it:
'Very quickly, you form an impression, and then you spend most of your time confirming it instead of collecting evidence.'
People rewrite and reshape their memories, often to fit with their existing beliefs. I read this quote from Caroline Webb that summarises it perfectly: 'The startling truth is that we don't experience the world as it is; we're always experiencing an edited, simplified version'. What has this got to do with your memory? We tend to see our memory as a recording device that captures facts, observations and information with accuracy. The truth is, our memory is highly subjective.
The Law of Unintended Consequences
That subjectivity of our brain also makes it very interesting though. As it brings one of my all-time favourite mental laws into play: The 'Law of Unintended Consequences' also known as second-order effects. Yes, you can use repetition or exposure to capture information, but this is only an immediate consequence of the action (repeat-remember). There is a subsequent effect of our repetition action as well. Behavioural science adds on a fascinating second-order effect on the concept of repetition that explains why using repetition can help you be more influential. 
If you repeat something, it doesn't only activate memory; it also triggers trust and liking.
So, if you repeat things, you become trust worthier, hence more influential. In behavioural science, this is called the mere exposure effect, also known as the familiarity principle. It describes a phenomenon that causes humans to rate or feel positively about things to which they are frequently and consistently exposed, including other people.
Just think about when you hear a new song on the radio. At first, you may not like it, but after hearing it a couple of times it starts growing on you, and you start loving it. As you grow more familiar with the tune and lyrics, you can even get quite fond of the song. It like the saying: 'something grows on you'.
The first scientific study on the relationship between exposure and appreciation goes way back to 1960. Researchers first asked participants to rate several nonsense words on a good-bad scale. They were then notified that they were in an experiment measuring the effectiveness of repetition in learning to pronounce strange words correctly. Some of these words were shown once, others twice, five times, or ten times. Participants had to take a look at the words, and then pronounce them every time they were presented to them. Following this 'training', they had to rate the words again on the good-bad scale. A significant repetition (or exposure) effect was seen, with the words shown frequently increasing in positive evaluation. 
Strangely, however, words which were seen only once in training were judged afterwards not quite as 'good' as before the start of the training. Thus, as a result of 2, 5, and 10 exposures words improved in meaning, and as a result of but one exposure, they worsened. The study revealed the same effect with Chinese characters that people didn't understand.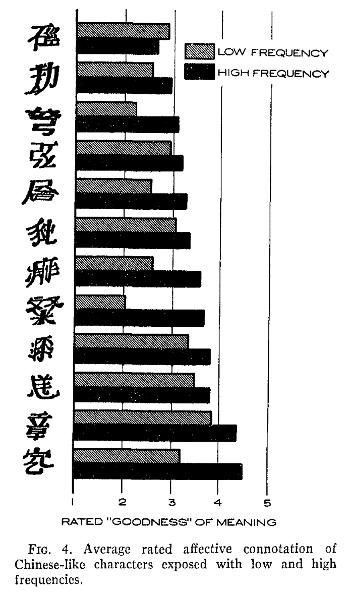 So, even when you talk bullocks like Trump (sorry, I could not let that one pass), but repeat it enough people may trust you anyway. But let's leave the roaring research sixties behind and let us see this principle a bit more in the light of the present. 
Want to learn how to design behaviour?
Join our two-day Fundamentals Course and master a hands-on method to use behavioural science to develop ideas that change minds and shape behaviour.
Using the mere exposure effect to create brand loyalty
I guess the most discussed application of the mere exposure effect can be found in marketing and communication. If you expose someone to a brand logo, slogan or communication vehicle often enough, it boosts recognition. People will even recognise brands with the brand name removed.
Familiar stimuli require less cognitive effort.
We don't have to go to the trouble of reading brand names, but we recognise the colours, shape of the logo and font types that we were exposed to many times before. Just do a little test yourself. I guess you can tell me which soft drinks these are even if you aren't fluent in Arabic: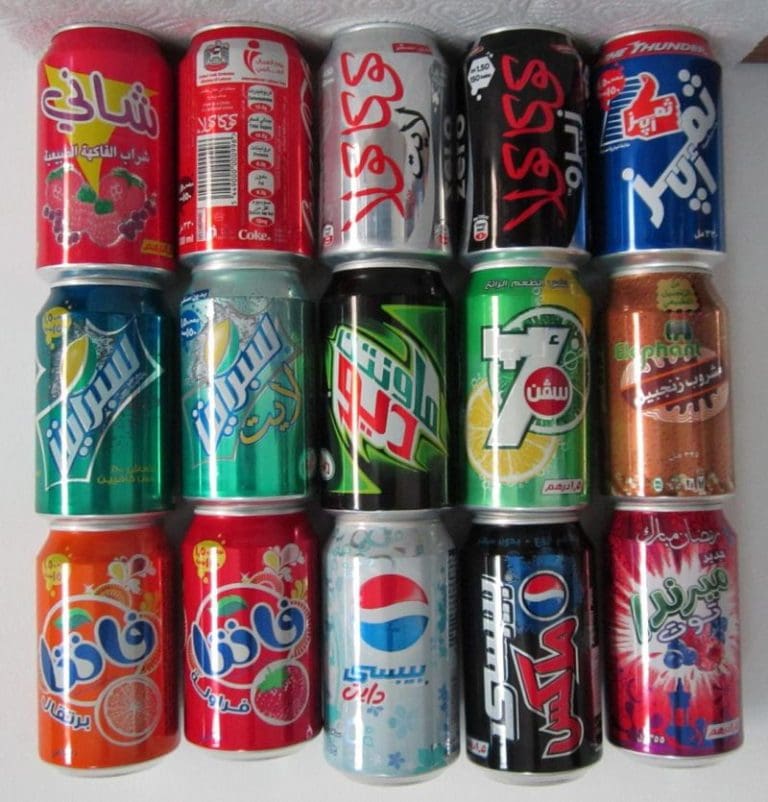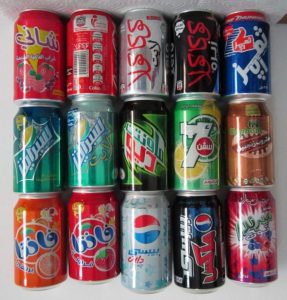 Visual source: Google.
Studies have shown that recognition, whether correct or mistaken, enhances the likelihood of preference.
Therefore, mere repetition can boost brand liking and brand loyalty. I guess we have all been there. If you ask me why I buy a particular brand of toothpaste, I buy it because I am used to buying it. I couldn't give you a clear-cut answer to the benefits of my toothpaste or on which features it outperforms other toothpaste brands. I just like it (or have grown to like it because of familiarity). It again all links back to the fact that:
Our brain is continually trying to lower our cognitive overload and repetition helps us make autopilot decisions.
There is all kind of tactics to use mere exposure in marketing and communication. Depicting familiar situations in your communication, presenting ads several times, developing a distinctive identity, playing by the sector rules (ever wondered why all hotel booking sites look the same? Now you know), and so on. To me, however, the far more impressive effect of mere exposure is the impact it can have on decision-making. 
Using mere exposure to make better decisions
It is essential to realise that the mere exposure effect substantially impacts human decision-making. People apply for schools, pick restaurants, favour people of which they heard the names more often or which they saw more frequently. So, if you commute by train to work every day and you see the same person making the same journey day in day out, you start to trust this person. The same goes for colleagues: the ones you see or interact with more often you tend to like more.
Liking people is one thing, but what if this mere exposure favouring affects your decision-making? To give you an example. If people apply for secondary education, they may consider a school, after reading the school curriculum and the school brochure, to be the perfect match but still apply for a school with a lesser fit because they have heard of it more often. Have you ever wondered why that blend, uniform looking global hotel chains are still in business? It is again the mere exposure effect at work. People may spend hours browsing hotel booking sites, checking out pictures and reviews of luxurious or boutique hotels. But often they tend to book a hotel which they are familiar with. Hence, settling with they already know. This is also known as satisficing instead of maximising. Most of us are satisficers.
Well-known brands give people comfort, especially in uncertain situations such as travelling to new surroundings. It's like seeing your national air carrier on an airport across the world. It feels a bit like home in a strange kind of way. It is one of the pillars of success for fast food chains such as McDonald's. Because you are exposed to them everywhere, all across the world, McD becomes familiar to you, and it makes many people tend to feel more secure to eat there instead of at the food stalls on the streets of Bangkok, which is a major mistake! Nothing, nothing beats eating Thai street food. I almost can't make a better case than this that mere exposure sometimes makes you make worse decisions.      
This flaw in decision-making has to do with a cognitive bias: ambiguity or uncertainty aversion. This is the human tendency to favour the known over the unknown, including known risks over unknown risks. This is why stockbrokers tend to invest in domestic companies more often, even though international companies are showing better numbers. But it also prevents people like me and you to invest in stock markets because it has risks that we cannot conceive of understanding. Even more severe is the fact that people choose to withhold from medical treatments if the risks are unknown. 
If you want to help people to make better decisions, you, therefore, need to be very aware of their anxieties.
Please check out, our Influence Framework© if you want to learn more about the effect of anxiety on behaviour. It would be best if you avoided ambiguity whenever you can.
Using the mere exposure effect to reduce risk
You can also minimise risk perception by again using the mere exposure effect itself. We, as humans are social animals. We want to be liked, we want to be like others, and we want to belong to a group. This is an innate human desire: we all want to be part of something bigger and want to feel respected and accepted. This is the reason why people tend to favour but also trust people who are similar to them.
It will reduce someone's uncertainty when you expose them to a similar other.
Preferably several times. Let me illustrate this with an example. We worked for an institution that provided a debt relief program for youngsters with serious debts. The program was free of charge, but the attendance rate was meagre. When we conducted Behavioural Research, we revealed that the youngsters had extreme anxiety. They didn't feel the debt advisors were people like them. When we communicated and showed, truthfully, that the advisors were all people like them that used to have debts themselves, the willingness to attend the program skyrocketed. We merely exposed them (at several touchpoints) with similar and familiar others which reduced the uncertainty aversion and boosted the desired behaviour.
Using mere exposure to have personal influence
If you want to influence someone by using the mere exposure effect, you can do two things. First of all, repeat the message you want to convey over and over again. Of course, connecting the message to genuine human insights as you can unlock with our Influence Framework©. You can use literal repetition, but synonyms can also work. A 'master' in using repetition is Donald Trump. Just take a look at how Trump answered a question at Jimmy Kimmel live, analysed by Evan Puschak.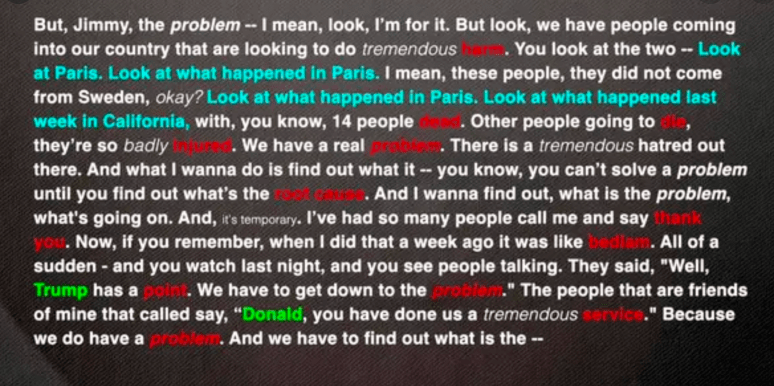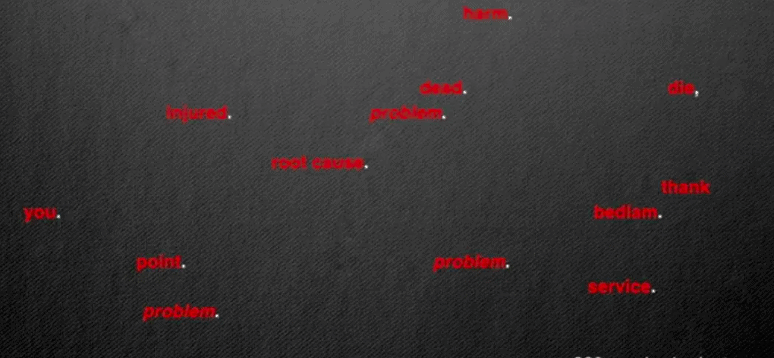 Visual source: Evan Puschak
What do you think after reading this text? Do you think we have a problem or not? And do you believe it is a minor problem or one that could harm us? Unfortunately, this rhetoric works. But we can learn from it. Not only how we can influence someone (please don't turn into a Trump) but also how we are influenced on a system 1 level by the mere exposure effect ourselves.
But there is another way to make this mere exposure work for you without you having to turn into a Dumb.
You can also try to be visible yourself around the people you want to influence. Be repetitive exposure in person.
In his book 'How Brands Grow'. Byron Sharp delivers scientific evidence that brands grow not by positioning or differentiation, but by salience. He introduces the concept of 'mental and physical availability'. The more people see a brand or the more it is evoked in people's memory; the more people will trust and buy that brand. Again, it shows that:
Familiarity breeds liking.
I believe the same goes for you being influential, as the findings of Sharp make sense and connect with the mere exposure effect. So, know that you're the brand called you. Make yourself familiar by merely being around and make it easy as possible for people to reach, see or talk to you. And use repetition in your communication.
Be careful not to overexpose.
Not in words, visibility or advertising. Overexposure maybe makes up for arty pictures, but it is an art that is only appreciated by a few. Just a small but essential side-note repeating is not the same as copying. To be perfectly clear. Some people kind of misunderstand what repetition is about and are more in the business of stealing. And not even as an artist I may add.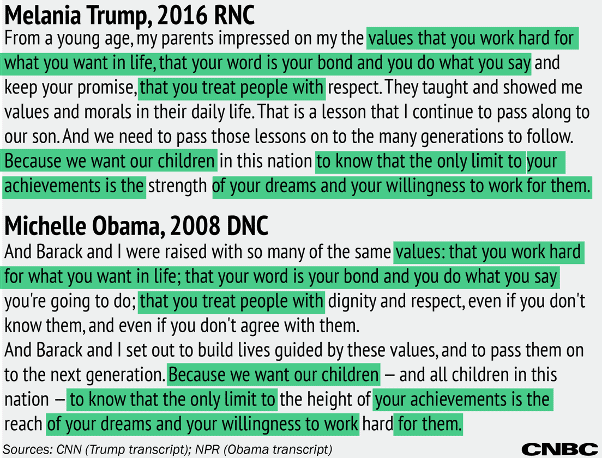 Visual source: CNBC
Using mere exposure to build better relationships
Now that you are familiar with the mere exposure effect, you can also use it to build better relationships with people. Familiarity is the foundation of every relationship. You share more with people you have seen more. Mere exposure builds interpersonal trust. So, whether you want to earn the trust of a friend or your partner's friends, your family or your colleagues you need to show up more. Invite them over for drinks, talk to them more often, go to get-togethers or send them a message now and then. It's how salespeople or the best account managers operate by nature. They remember birthdays, make house calls, and keep in touch regularly. In the end, the unconscious decision-making part of people's brain will prefer who they are comfortable with.
Using mere exposure to help solve societal problems 
I briefly touched upon the relationship between anxiety and mere exposure. However, anxiety doesn't always have to be a bad thing; you can also use it to your advantage. The mere exposure effect can help people become more aware and more willing to take action for severe problems. Researchers exposed participants to images of environmental risks and directed their attention repeatedly to a subset of these risks. When the participants were asked about those risk they were exposed to more often, they indicated to judge these risks to be more severe, more frightening, higher priority and more distinctive than risks they were exposed to fewer times. The researchers, therefore, suggest that mere exposure can increase the perceived severity of environmental risks because it increases the fear and distinctiveness of those risks.
I wouldn't promote fear-mongering by the way, but this research does show that you need to expose people more often to a message to have an effect on memory and action. As we are facing some serious international issues today, it could be beneficial to see if we can leverage the effect of mere exposure. Sometimes people need to be shaken up a bit to care; I don't know what the right balance is of the amount of fear. Just like a photograph can turn out wrong because of overexposure, the same goes here. Given is, you shouldn't overdo it. 
Mere exposure: don't overdo it
Not all exposure is good exposure. Too much exposure can lead to conflicting feelings. Whether it is a person you see too much, or a brand or a communication. It can cause indifference, or something called 'audience fatigue'. People reach a saturation point. So, you have to find a balance in the number of exposures. But also, the quality of exposures matters. Take a look at this social thread on Tide adds that people seem to dislike much.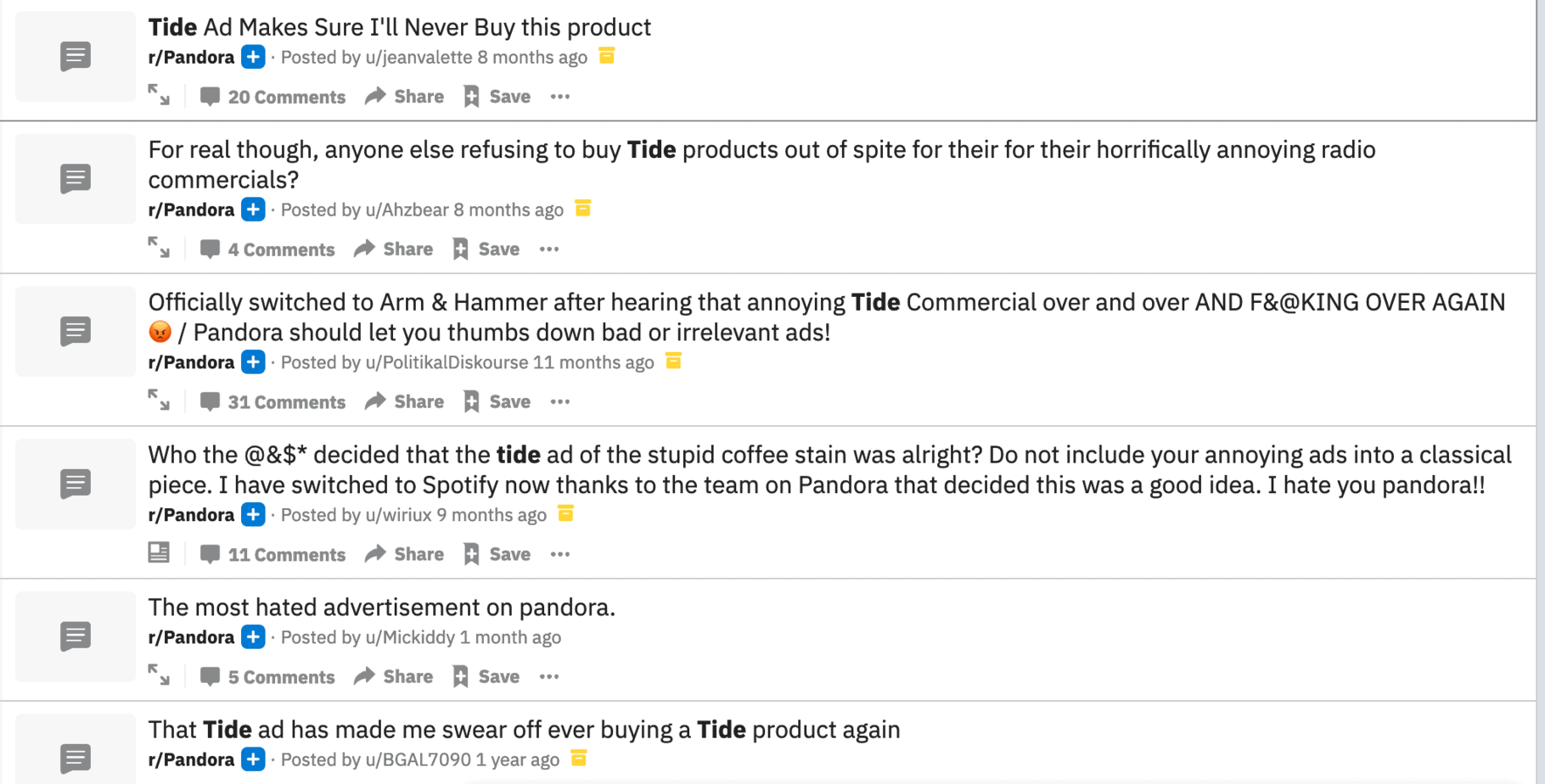 Visual source: Reddit
When following Byron Sharp's thinking, you could argue that the quality doesn't matter and at least Tide has built mental availability. There's certainly truth in that. But the fact is, too much exposure can decrease liking. Psychologist Wilhelm Wundt discovered that:
People's enjoyment rises when an idea, experience or product is new, but when it becomes overly familiar, the joy will drop. 
Visual source: the Wundt Curve (see resources below)
The lesson we can learn from this is that yes, we want to build familiarity. But we can build sustainable relationships by changing a familiar product, service or even yourself just enough to make the experience new again. This is why making incremental changes can be a tactic to keep benefiting from the mere exposure effect. And by the way, Wundt also discovered this is the way arousal works. So, if you want your partner to keep longing for you need to get out that familiarity comfort zone. Time to dust of those worn-out habits and find some new excitement.

Using mere exposure to study and remember 
Next to the fact that exposing people to something multiple times is what will activate the exposure effect, there is also the question of timing. When do you expose someone? I guess we have all grown up with the habit to repeat, repeat, repeat to learn new stuff, remember it and reproduce it in tests. What we did back then (and maybe still are doing now) is using repetition to help us remember. But what we were never taught is how to apply this mere exposure effect on ourselves to get a maximum result. And this all has to do with the timings of the exposure.
The best learning experience comes from so-called spaced repetition.
It is one of the most powerful techniques to help your brain recall information (also check out my post about chunking). It would be digging a hole here to dive into the Behavioural Design of learning right now, but to bring you up-to-speed quickly. The benefit of spaced repetition is based on the research of Ebbinghaus who has discovered the Forgetting Curve. This curve shows we forget things over time. 
Visual source: Farnham Street blog
But we can change the curve by adding space between the repetition. Or as Ebbinghaus said himself:
With any considerable number of repetitions, a suitable distribution of them over a space of time is decidedly more advantageous than the massing of them at a single time.
Visual source: Farnham Street blog
I will dedicate a particular blog to the way you can boost your learning experience using spacing and achieve memory mastery by using repeated exposure. For now, this quote of John Medina, author of 'Brain Rules' wraps it up nicely:
How do you remember better? Repeated exposure to information in specifically timed intervals provides the most powerful way to fix memory into the brain. …Deliberately re-expose yourself to the information more elaborately, and in fixed, spaced intervals, if you want the retrieval to be the most vivid, it can be. Learning occurs best when new information is incorporated gradually into the memory store rather than when it is jammed in all at once."
Conclusion: mere exposure is applied behavioural design
To conclude, mere exposure provides people with a shortcut that lowers their cognitive overload in deciding something is valuable or not. By repeatedly exposing someone to something or someone, you can build liking, trust and memory. And it can help people to make better decisions and to shape desired behaviours. How's that for making behavioural economics work in practice? Not bad, not bad at all.
Astrid Groenewegen
Co-founder SUE | Behavioural Design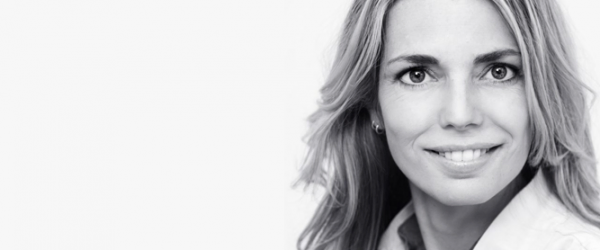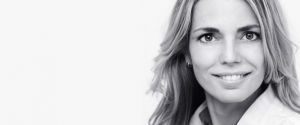 Resources (in order of appearance):